Environmental enforcement activity by the state Department of Natural Resources has dropped dramatically in the past two years, according to data from the agency, with the number of permit violation notices hitting a 12-year low in 2011.
DNR officials say the decrease is partly caused by an enforcement staff that's been hit hard by budget cuts. But they also point to a philosophical shift that emphasizes cooperating with businesses by helping them navigate complex state and federal regulations and steering them into compliance when they violate their permits.
"I don't apologize for that," said DNR Secretary Cathy Stepp of her emphasis on customer service and a less-confrontational agency. "When we do our jobs right at the Wisconsin DNR and when we are no longer viewed as somebody to be afraid of and instead as a partner in understanding what the expectations are ... we also see environmental enhancement and job creation as a result. (Businesses) know they have somebody they can come to and help them comply."
But others see a darker side to that approach. Critics, including current employees and recently retired agency officials, say they see tough regulation and enforcement being de-emphasized by politically appointed administrators, and they worry it is happening at the expense of the agency's traditional and legally mandated duties of oversight and environmental protection.
There also are recent signs from the federal Environmental Protection Agency, which gives the DNR the authority to enforce clean air and water laws, that it is increasingly at odds with the state agency over standards and enforcement.
"The decline in enforcement activity in Wisconsin raises concerns about whether the state is adequately carrying out its responsibility to enforce the Clean Water Act, the Clean Air Act, and other federal laws that WDNR is authorized to implement," Susan Hedman, EPA regional administrator, said in a statement.
"Consistent enforcement of these laws is needed to protect human health and the environment — and to ensure a level playing field for the vast majority of people, businesses and communities that comply with the law in Wisconsin and across the country."
Sue Miller, a conservation warden in Hayward in northern Wisconsin, has been with the DNR for more than 30 years. Now nearing retirement, she said she has never seen staffers more confused about their regulatory role.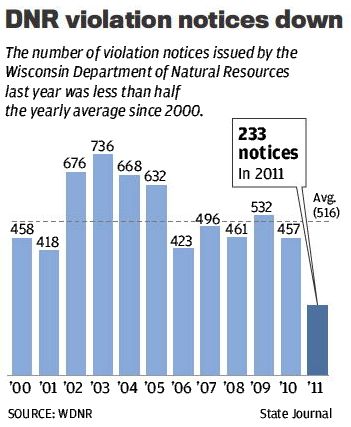 "Some of it can be subtle," Miller told the State Journal. "But it seems like we're supposed to use a lot more caution. It's couched in terms like, 'Use really good discretion in what might be controversial areas.' But the conclusion we come to is, 'Don't write the ticket.'
"I've had seasoned guys who call me about blatant charges and say they are having second thoughts because the person says they'll call the governor's office or the secretary. You really end up talking guys through it. There is a lot of stress in making decisions where there wasn't before."
Gordon Stevenson, who retired in January from his job overseeing permits for industrial-sized farms called concentrated animal feeding operations, or CAFOs, described a gradual move in the past two years toward less enforcement and more influence within the agency by business interests, including business and farm lobbying groups. The push, he said, is to write permits rather than enforce them.
"My conclusion is that there is not an emphasis on enforcement in the current administration," Stevenson said. "The attitude is 'We're in trouble economically so let's suspend the rules.' Is that a good idea? I don't think it is."
'Judge us by our actions'
Stepp and Matt Moroney, her deputy secretary, say they place no less emphasis on enforcement. Moroney pointed to a memorandum he sent to enforcement staff statewide on March 7 in which he encouraged diligence.
"While it's our goal to resolve violations efficiently, consistently and without litigation where appropriate, we are committed to investigating and prosecuting violations that pose or cause significant threats to public health or the environment; that involve willful or negligent conduct; or that are chronic in nature," Moroney wrote.
Stepp said such a large staff always will have disgruntled employees.
"Don't judge us by our words, judge us by our actions," Stepp said. "And how we're working to really make Wisconsin government work better, not only for the citizens we serve but for a better environment. Judge us by that, not by whisperers."
Recent enforcement numbers show a downward trend in attention to everything from inspections to notifying permit holders of violations. The number of violation notices issued by the DNR in 2011 was far below the annual average for the past 12 years in several crucial areas. In total, the number of violation notices has averaged 516 a year since 2000 compared to 233 last year.
The agency issued 46 air violation notices in 2011 compared to the 12-year average of 128, and eight stormwater permit violations in 2011 compared to the average of 42.
George Meyer, executive director of the Wisconsin Wildlife Federation, is a former DNR secretary and also was in charge of enforcement at the agency for many years. He described the decreases as "more than a dip."
"The numbers are so dramatic, it is clear there is a different philosophy toward enforcement," Meyer said. "And the message, the culture change, starts at the top. Staff reflects leadership."
More enforcement conferences
Moroney, formerly executive director of the Metropolitan Builders of Greater Milwaukee, handles most of the enforcement duties on Stepp's senior staff. He reviews all cases sent to Madison from the agency's regional offices for referral to the state Justice Department for possible prosecution. He said much of the drop-off in enforcement activity is because the staff has been depleted by budget cuts and retirements, adding that enforcement activity likely will increase once more staffers are hired.
Steven Sisbach, section chief in the Department of Environmental Enforcement, said seven enforcement positions are vacant out of a full-time enforcement staff of 20.5. The agency has approval to fill four of the positions and is recruiting for the jobs, he said.
Moroney also said the agency is trying to work more closely with noncompliant permit holders by resolving infractions in meetings known as enforcement conferences, which can head off further action. Between Jan. 1 and April 19, 2010, the DNR issued 87 violation notices and held 60 conferences. Over the same period in 2012, the agency issued 58 violation notices and conducted 56 conferences.
Rare written rebukes
Recent actions by the federal EPA show problems at the state regulatory agency may go deeper than enforcement numbers and may extend to problems with weakened and unclear environmental rules and standards, which are the basis for issuing and enforcing permits.
Most glaring is a memorandum the EPA sent to the agency last year detailing 75 "apparent omissions and deviations" from federal law in the rules used by the state to issue permits and regulate federal clean water laws. Among the deficiencies were several that are the result of regulation changes adopted under the Walker administration. The EPA, for example, questioned a Wisconsin regulation passed in May that would require state agencies to put water standards in place only if a law provides for it.
And two weeks ago, the EPA asked the DNR to correct what it said was an inadequate annual list of impaired lakes and rivers by adding 99 bodies of water the state agency failed to include in its original listing.
Such rebukes are rare, said Todd Ambs, who stepped down in 2010 as head of the DNR's water division. "It's really unusual for the EPA to put anything critical in writing, let alone send a 75-point letter," Ambs said.
Moroney downplayed the EPA letter and said it was the result of a two-year review by the federal agency and included complaints that pre-date the current administration. He said the agency is writing new rules to correct any problems. He added the differences over the impaired waters list were due to differing interpretations of new phosphorus rules.
Longtime observers of the DNR say the debate is about more than numbers.
Kimberly Wright is a former DNR employee who now heads Midwest Environmental Advocates, which provides legal representation for citizens fighting pollution. She said a shift away from tougher enforcement likely will lead to a damaged environment and threats to human health, improperly spread manure that seeps into water supplies or particle pollution that decreases air quality and heightens the threat of lung cancer and other ailments.
"We see the human side of this," Wright said. "People who are fighting horrible pollution who have nowhere else to turn."